日本の伝説的なKAWA-COOLファッションアイコン志茂田景樹さんをTOKONEタイツのカタログでWrittenafterwardsなどでスタイリング担当してきました!
A little while ago I got an email from Tokone tights about working with Shimoda Kageki, who I did not know at first (I`m going to pull the "I wasn't raised here" card) but a quick google search later revealed that I had been missing out on knowing one of the most iconic people in Japanese fashion ever. 
I first thought of Boy George, but it was pointed out to me that since Kageki is a Naoki Award-winning author and essayist (akin to the Pulitzer Prize), he is more akin to the legendary Quentin Crisp from the UK.
少し前のことにはなりますが、タイツブランドのTokoneから連絡があり、"シモダカゲキ"という人のスタイリングをやることになった。その時彼の事を知らなかった私はすぐさまインターネットで調べると(すみません、海外育ちだと言い訳にいうしかございません)、出てくる出てくる"志茂田景樹"さんの画像。どうやら聞くところによると、彼は日本のお洒落ピープル史上最重要人物のようだ。
一見した私の印象は、80年代のニューロマンティックのような中性的なスタイルから、日本のボウイジョージのような方なのかとお見受けしたが、実際には志茂田景樹さんは直木賞受賞作家で、エッセイストとしてもよく知られているそうで、どちらかというとイギリスの伝説の作家クウェンティンクリスプの方が的を得ているように感じた。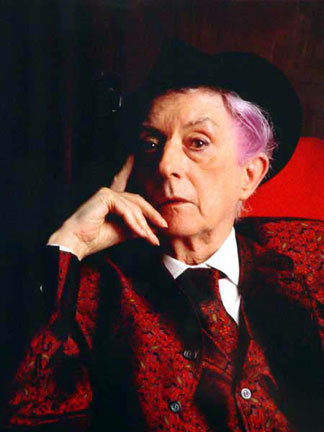 British author Quentin Crisp
I was to style Kageki-san for the Tokone lookbook, wearing Tokone's creative director Hatsuki Sugai's "kamakiri" tights. Why hire a mature man for a tights campaign? Well, his legs are AMAZING and him wearing colorful tights and leggings is his signature style anyway. "Surprisingly, this is the first time I`ve ever modeled for a tights brand though!" he admitted.
その個性的なスタイル、カラフルな髪色、そして男性でありながら日常的にタイツを愛用していることから知る人ぞ知るファッショニスタとしても敬愛される彼が、今回Tokoneのルックブックモデルを務めるということで、少し聞いただけでも何やら面白いことになりそうな気がしてならなかった。Tokoneのクリエイティブディレクター、菅井葉月さんは以前より彼にモデルをお願いしたいと考えていたそうで、今回ついに念願かなってあの美脚にTokoneのタイツを履かせることになった。"タイツは普段から履いていますけど、タイツのモデルになったのは初めてですよ"と笑う志茂田景樹さんは、その奇抜な装いからは想像もつかないほどに物腰が穏やかな紳士でした。
Looking at Kageki, I knew that I HAD to get him in Tokyo-based philosophical brand Writtenafterwards without a DOUBT. I also pulled in favors from Mikio Sakabe and Prism Gem for head gear.
He was so gracious and wore anything I asked of him, including the net dress with a stuffed tiger body on it by Writtenafterwards— he even stayed longer and let us shoot an extra shot! Thank you so much, Kageki-sensei.
With this, we have our complete TOKONE catalog! These are sold online, and you can ALSO get them at Isetan at my SOEN x Isetan pop-up shop! Remember, it finishes at 8pm on Tuesday so hurry up!!
今回の衣装は、彼の独創的な世界観を最大限に生かすべくWrittenafterwardsのショーピースにMikio Sakabe、Prism Gemのヘッドピースで一切の引き算無しでスタイリングしました。
しかし私が渾身のセレクトで用意したアヴァンギャルドな洋服も、彼は至って平然と着こなしカメラの前へ。恐るべし志茂田景樹先生 (しかも髪の毛の色までーー!)…
そしてこの写真を収めたTokoneのブランドカタログがついに完成したとのことで、是非皆さんこちらのオフィシャルウェブサイトをご覧下さい!Tokoneのタイツはこちらのオンラインショップをはじめ、今週火曜日まで開催中の装苑と伊勢丹のポップアップストアでも販売しています!こちらは期間限定なので急いで! ミーシャのタイツだって、オンラインは完売しているものの、ポップアップには数本あります!
ウチのコラボタイツは真ん中の"Sweet teeth"のもの! I designed the middle ones "Sweet Teeth" with Tokone ^^
You can pre-order online here . こちらで予約できます