シティに住むガールはモノクロのワードローブで勝負することが基本。でもさ、セメントジャングルの中だからって、セメント色の日々を送らなきゃいけないわけじゃないの。だって、いつも言っているように "黒を着る女性はカラフルな人生を送る" んだから。
でも、その真逆の意見もあるのよ。
例えば "カラフルな服でまわりの人たちを笑顔にしてあげるの"という正義のヒーローならぬヒロイン的な精神。
それは尊敬すべきポジション。私自身もこういう気持ちもすごくわかる。でも、自分の洋服で世界を楽しませるのは別に宿命じゃない、と私は思う。自分の人生は自分のランウェイ。
その上、実際の現代社会では、やらなければいけないことがたくさんあるもの…みなさんだって、ミーティングのからミーティングへと走りまわり、アポに遊び…浴びるスポットライトだって追いつかないでしょう。でもモノクロってつまらないのかしら?コーディネートで良く言う"さし色"ってありますよね?ある意味 "カラフル" にすることができるアクセント。実は、モノクロの好きなあなたに本物の色をリアルに身につけなくても、"さし色"をつくることができるの…
それは…人柄、行動、意志、モラル、ユーモア、そして想像力。つまり、内面。これらはやっかいなモノクロ服に飲み込まれないような人それぞれの"色"を持ってる。ミーシャは自分のクリエイティビティを磨く事に専念してる。そしてそれは私の"さし色"にしている。
Girls in black lead brilliantly colorful lives.
On the flip side, there's a mode emploi of dress that some heroines adhere to; "I wear colorful clothes because when people see me I want them to smile."
It's certainly a respectable positioning, and I`ve encountered these feelings myself many times. But it's not all of our jobs to entertain the world with our clothes. Our lives are our *own* runways. And in reality, we have stuff to do, running around town…and the spotlight definitely won't be keeping up. So for those days (and I would say for most of you readers that means "every day"), you can make yourself "colorful" through other means, while keeping a cool, urban city-girl-ready monochrome wardrobe.
How is that? Personality, action, intention, ethics…and imagination. These are also our own "colors" which keep us from being just another sad black sheep of the masses in black and white clothes. For me, I focus on honing my creativity. I`m calling this my own "accent color".
Photos: Celia Humphries
 All-in-one: OAK, belt: Martin Margiela, shoes: DOG Harajuku, bag: Diesel, Necklace: Alexis Bittar
Leather jacket and pants, black oversize shirtdress: OAK 
 Asymmetrical pleats top: OAK, headband: Plumb accessories
 Jacket: OAK
 Photos, editing: Celia Humphries
Styling, artwork, model: Misha Janette
その想像力が見えないところから溢れ出す〜というイメージした作品はいかがでした?
今回のモノクロコーデを組むのに、まっさきにシティウェアの大様、OAKに駆けつけた。NYをベースにしているショップで、sohoエリアに行く度に必ず足を運びかっこいいカジュアルウェアを探しにいく大好きな場所。東京には2014年の春に上陸。キャットストリートのアメアパレディースショップの上に位置するNYっぽいロフト。ラックには、お分かりの通り黒と白の服がずらっと並ぶ(たまにグレーも登場 笑) 。決してベーシックに収まらないその服はファッションワイズなボーイズ&ガールズにぴったり。アシンメトリーなカットや、ルーズなシルエット、シャープなコートやまだまだ若手のユニークなブランドAnn Sofie MadsenがこのOAKには並ぶ。
OAKとNYについてすこし。ミーシャはファッションウィークの期間中そこに行って、カラフルアクセントを捕えた。ほら、セメントジャングルでも、目を引くような鮮やかな色で溢れてた!OAKオンラインショップ
Imagination appears in places and moments you'd never expect….
This time I went straight for the ultimate shop for city wear, OAK. The store is based out of New York City, and it has been my go-to place every time I visit the SOHO area to get some really cool casual clothes. The Tokyo branch opened just this Spring 2014 in Shibuya, tucked off of Cat Street and snuggled in a loft above the American Apparel women's store、. The racks are full of…you guessed it, black and white clothes (and sometimes grey…if you're feeling adventurous). These are not exactly next-door basics, though, they're definitely geared towards the more confident fashion-wise girl and boy. Asymmetrical cuts, loose silhouettes, sharp coats and a select of young, unique brands like Ann Sofie Madsen round it out as one of the more useful concept shops in the city.
Speaking of OAK and NYC, I was just there for fashion week, and captured some colorful accents there. Just because it's a cement jungle, doesn't mean it's not bursting with eye-catching color! Find OAK here.
ちなみに、私はモノクロばかりのコーデをしても、顔が明るく見えるように少しでも良いから色が必要と思っている。私のリップの存在感はみなさんもお気づきの通りかも (笑。特に赤とオレンジをよく使います。この撮影にはレブロンの"カラーバースト"のマットバームシリーズを使用。マットは最近"キテる"テクスチャーだからね。また、セミグロス(光沢)を出演してくれる"バームステイン"も使ってみた。大きなクレヨンみたいな形も気に入ってる。すごく塗りやすい。しかも、マットリップは乾燥しやすいと言われていたけど、レブロンのマットバームはくちびるを潤わせてくれるから塗り心地が良いの。
またまた、200%クリエイティブモードのミーシャにクレヨンを与えたら、それは白い壁にマーカーで落書きしていいよと言っているようなもの!バームをいくつか使って眉をカラフルに染めた。(もちろん真似っこは必要無し!笑 どうぞ、普通にリップのみにお塗りくださ〜い)。
さあ、"あなた"のアクセントカラーは?
"モノクロを着る女性はカラフルな人生を送る"シリーズ、そして私達の現代ガールをサポートしてくださっている Revlon に心より感謝申し上げます。下記より、ミーシャが使用したカラーバーストマットバームをご覧ください。そして、このシリーズの他の写真もぜひ見てください!カラフルな人生を!
Even if I`m in all black,white navy or grey, I need a little color at least in my face to keep me looking alive. You'll almost always find me with a color on my lip, especially in red or orange. For this shoot I used Revlon's ColorBurst, especially the Matte Balm as matte is definitely the "in" texture these days. I also tried some of the Stain Balms for a semi-gloss effect-both have a moisturizing effect so my lips didn't crackwith color. I also like the fat "crayon" shape as it helps make application a cinch.
And because I was in creative mode 200% and giving me "crayons" is like giving markers and a white wall to a toddler, I used some on my eyebrows for a really colorful effect (no, no imitation required! Please feel free to leave the color on your lips, only! ;) . So what is *your* accent color?
Thanks to Revlon for supporting this series of "Girls in black lead colorful lives". See the  ColorBurst Matte Balm I used below, and check out the other photos in this series too. And have a colorful life!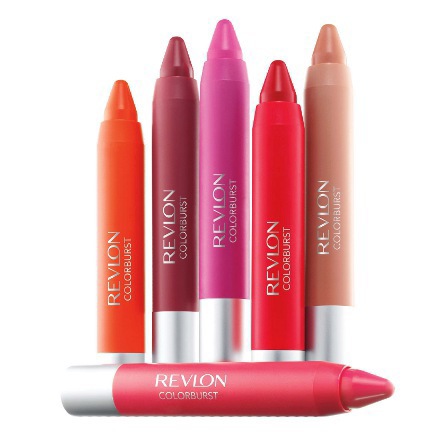 Thanks to Revlon Japan! See where to get ColorBurst Balms here
Words: Misha Janette
Edits: Natsumi Yasuoka
READ MORE! 関連記事も読みましょう!
TWITTER: @FashionTubuyaki
INSTAGRAM: @MishaJanette 
FB OFFICIAL: MishaJanette-TFD
GOOGLE+ MishaJanetteFleming
WEIBO MishaJanette東京
[srp widget_title="最近のポスト↓Recent Popular Posts" widget_title_header="h2″ thumbnail_width="50″ thumbnail_height="50″ post_limit="4″ post_content_length="70″ post_title_length_mode="chars" post_noimage_skip="yes" post_link_excerpt="yes" post_date="no" post_author_url="no" post_category_link="no" targetblank_links="yes" layout_mode="multi_column" layout_num_cols="4″ vf_allposts="yes" vf_allpages="yes" vf_everything="no" vf_allcategories="yes" vf_allarchives="yes"]